blogged several wees ago about b.right! Radiant Skincare by Benefit 6 piece intro kit a few weeks ago and I had a chance to use it and write a review on it. For further information about the haul, please visit:
Collective Birthday haul #5 - Benefits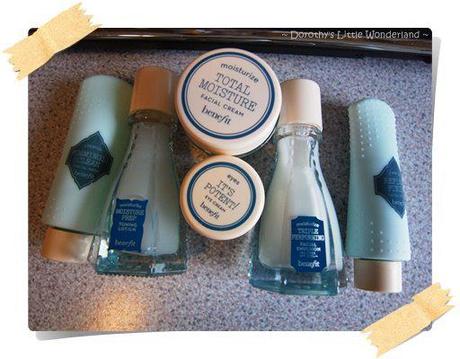 ASOS
is doing it for £10... It's a good entry price for getting into Benefit products.
Benefit is doing it as well, with free shipping for this Jubilee Weekend: Here The code for free shipping is:
UKSHIP
I have managed to use it for 10 days, and I will talk about each product and what I think about it.
1. Refined Finish Facial polish
- beautifully brightens the complexion, gently exfoliating to purify the skin and help minimise the appearance of pores
Review:
It is a gentle exfoliator which I enjoy using. However, I find it a bit too hard to massage into the skin sometimes.
2. Triple performing facial emulsion SPF 15 PA++
- hydrates, protects & comforts the skin with an oil-free, light weight formula, contains exclusive ultra moisturising tri-radiance complex to help capture and maintain water on the skin's surface
Review:
This day cream is sufficient to moisture my skin before my primers. I love the fact that it has SPF15, which I can just dust some powder on after priming my face everyday. Don't like putting foundation on nowadays because it's too hot. I found that also makes the makeup last longer as well :)
3. Total moisture facial cream
-provides concentrated immediate & long-term hydration
Review:
This cream is moisturising enough for night time. I have skipped my hydrating serum these days because I found it doing it jobs well :)
4. It's potent eyecream
-fades dark circles & helps smooth fine lines for brither, younger looking eyes
Review:
This is the only product that I have problem with in the set. I found my eyes hurting after applying this eye cream. Also, I find it hard to dig the cream out.
5. Moisture prep toning lotion
- smoothes, revitalises and tonew to allow the skin to fully optimise the maximum benefits of any moisturiser
Review:
I really love this toner. It smooths the skin and pumps water into the skin and helps absorbing the cream :)
6. Foamingly clean facial wash
- effectively cleanses the skin & removes makeup & impurities with a soft, gently lather
Review:
I enjoyed using this facial polish. I feel my skin becoming smoother and the pores are minimised. The thick creamy texture and foams after adding water really smooths the skin and relaxes my skin. I enjoy the smell as well.
Overall Review
I have enjoyed using the kit, the smell of the products are gorgeous and delicious. It is a very good price (£10) for the start of the skincare routine or getting into Benefit's Skincare range. I think it is suitable for summer use because it is not too oily or too thick to apply. I have to investigate whether it will be suitable for winter or not. I will definitely put Benefit Skincare into my go-to list if I need to buy some skincare products. :) I highly recommend you to try the kit out!!! :)