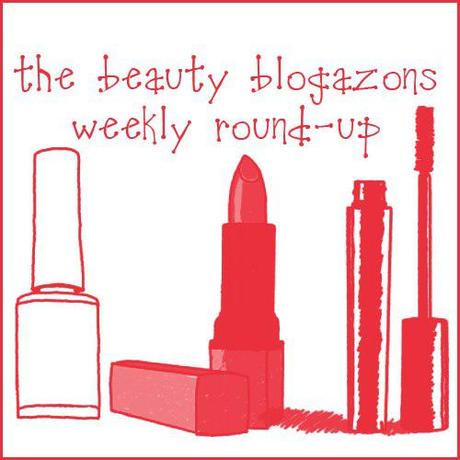 Pink Sparklz- New Trend: Matching your lips to your nails! VS Glossy Lip Tint - Boudoir Pink Swatch
Miss Merli In NYC- Featuring Brooklyn Designer Sam Branman and his mesh creations
Tolmu Rull Tells All- What to pack into your beauty bag for travelling? See, what frequent flyer Tolmu Rull packs!
Confessions of a Sarcastic Mom- Blurple is the perfect shade for summer, and Confessions of a Sarcastic Mom picks Cult Nails Tied Upas the best.
I Like My Polish Black Just Like My Metal- Penguins, nail polish, and bright pink! Oh my! Find out what all these three things have in common and how good they all look together.
Cosmetics Aficionado- See the Soho Beauty brushes popping up but not sure if you should buy? Check out my review of their Professional Crease Brush.
Holographic Hussy- Dollish Polish stunning Expecto Patronum in all its glory...
My Newest Addiction Beauty Blog- Laura from My Newest Addiction Beauty Blog share her Tart Deco Dots on Manic(ure) Monday!
Emily Hudspeth, Bringing the Beauty to You!- Trying out a new monthly beauty sample service. Emily shares her first month of Sample Societyby the Beauty Bar.
Ishah x Beauty- How to DIY Ombre Hair at Home? Ishah x Beauty has you covered.
Beauty By Miss L- Miss L did a simple, but eye-catching mani with dots.
Sincerely Stephanie- Loving the colour blocking trend, but looking for a new take on it? Sincerely Stephanie shows you how to get the look dottified.
myCosmeticBag- Love black nail polish and gradient manicures? Sink your teeth into Anisha's 'Berry Vampiric' nail look.
Phyrra- Phyrra is a Superstar with the new Fyrinnae collection!
Beauty Apocalypse- Want a sophisticated eye? Beauty Apocalypse gives a review of Stila's "Ladies Who Lunch" collection.
Mani Curiously- Loving the NARS Thakoon Collection? Be sure to check out E's matte take on this stunning cyan blue polish!
DeyiMizu- Read about the fabulous all-in-one African Shea Butter!
Shades Of Beauty, Inc.- REVIEW: China Glaze Neons...Shimmer Highlights
Beauty Product Review- Read all about the Jouer samples that I just can't stop raving about
Midnight Manicures- Dazzle Dry, Vegan and Big 5-Free. Performs like a Gel, removes like a Polish.
Thepassengerelement- 100th beauty blog post ft Tarina Tarantino'sVictorian Punk eyeshadow
Cosmetically Challenged- Which Glitter Hue is right for you? Cosmetically Challenged puts 5 brands head to head in the battle of the Purple and Blue Glitter Nail Polishes.
Nails Beautiqued- Summertime fun with Jessica Cosmetics "Gelato Maio" nailpolish collection lots of mouthwatering pastels
The Lacquerologist- Contrasting colors and finishes come together in this beautiful polka dot manicure from the Abstract Nail Art Challenge!
Hope you all enjoy the blog roll :)