I know I've been doing this blog for 2 days, I think writing a review on what I have used during the past month will be great.
First I am going to start off with my January Favourites.
Most of the favourites are in my previous post about my daily routine.
1.
Liz Earle Cleanse & Polish Hot Cloth Cleanser
50ml + muslin cloth:
I have been using it since 10th January. I htink I have used nearly half of the bottle. Luckily I have a LIB YOU box which is about to arrive soon, I can top it up. It refreshes my skin well. I think after clearing all the cleansers in my stock, I will buy more!
2 - 4. KOSE Infinity Moisture Concentrate, KOSE Infinity Lotion Concentrate II, KOSE Infinity Serum Complexion I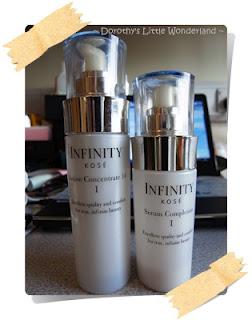 I started using KOSE and I'm just loving it!!! It does a great job! Unfortunately we cannot buy these in UK.
5 + 6. Estee Lauder Advance Night Repair serum + Estee Lauder Hydrationist Serum
I got a full size product of hydrationist in the outlet. It's very good! I normally mix the two serums together and use them both in the morning and at night. They are doing the great job to
1. moisturise my skin
2. close up pores
3. even the skin tone
4. makes my skin look healthier
7. Apivita Express Gold with Prickly pear
This is a cream mask and does lifting + hydration well~ I love the smell too!!!
8. Hada Labo Gojyjyun moisturising mask
This is one of my favourites where it instantly hydrates my skin :)
Then go onto the cleared products:
From top left to bottom right:
1. Shu uemura cleansing oil
2. Caldalie grapeseed lotion
3. Shu uemura rose hyrdating mist
4. Tony moly Fresh aqua pure cream
5. Body shop body butter
These items are good to use and I will highly recommend you to try out if you have chance. The only that I will not reccomend is the Tony moly one. It is not hydrating enough and caused break outs to me. I stopped using it and finish with it using as a body lotion. It moisturises my body well though.
Thanks for reading and please comment what other posts you would like me to do :)